Gowan Brae House
Bed & Breakfast Accommodation
Fort William in the Highlands of Scotland
Fort William Attractions:
There are many different attractions in and around Fort William for locals and Tourists alike.
Beautiful Glen Nevis lies at the foot of Britains highest mountain and the scenery is truly breathtaking. Accessible by road or foot, the Glen is seven miles long and the road narrows to single track at the Lower Falls. A further two mile stretch ends at the car park where the keen walker can leave their vehicle and take the 20 minute trek through the Gorge. The end of the walk is worth waiting for. Don't forget your camera!!!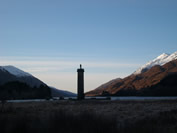 A 35 minute drive west from Fort William will take you to the famous village of Glenfinnan. It was here, in 1745, that Prince Charles Edward Stewart marched south with the gathered clans.
The Glenfinnan Monument was erected to commemorate all those who fought and died for The Cause.
Fort William to Mallaig along the beautiful Road To The Isles - video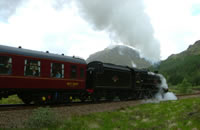 From mid June until the end of September, "The Jacobite" steam train runs from Fort William to the fishing port of Mallaig following the famous Road to the Isles. Winding its way through Corpach, Glenfinnan and Arisaig the views of the West Highland countryside are second to none. The rail journey crosses the Glenfinnan Viaduct, a curved structure of concrete, 100 feet high and 416 yards in lenght. It consists of 21 arched spans of 50 feet each and was built by Robert MacAlpine. This was the first concrete viaduct to be built in Britain. Folklore has it that during construction a horse and cart fell into one of the viaducts piers and remains entombed there to this day.

Listed below are a number of places to visit along with the time taken to get there by road.
Photo Gallery :



Gowan Brae Entrance

Bedroom 2 - Double en-suite

Bedroom 3 - Double ensuite








Dining Room at Gowan Brae

Dining Room

Deer in back garden








Highland Cattle Glen Nevis

Highland Cow Glen Nevis

Highland Cattle in Glen Nevis








Caledonian Canal

Ben Nevis from Corpach Basin

Fort William from Corpach








Neptunes Staircase

Lord of the Glens negotiates Neptune's Staircase

Caledonian Canal beside
Neptunes Staircase








Loch Linnhe

Soutars Lass returning from
Seal Island Boat Trip

Sunset from Arisaig








Glencoe

Urquhart Castle Loch Ness

Fort Augustus Abbey Loch Ness








Glenfinnan Monument

Glen Loy looking towards
Nevis Range

Laggan Dam








The Gorge Glen Nevis

Glenfinnan Lochan

Glenfinnan Monument








Glen Nevis Fort William

Gondola Cable Car Aonach Mor

Loch Shiel from Glenfinnan








View from Ben Nevis

Steamtrain over
Glenfinnan Viaduct

Steam Train to Mallaig from
Fort William








Fort William & Ben Nevis

Glen Roy

Sunset over Loch Linnhe








World cup Bike Race
on Aonach Mor

Ben Nevis and Caledonian
Canal Fort William

Gondola and bike up Aonach Mor
to Nevis range








Mountain Bike World Cup

Last leg of World Cup Bike Race

View from top of Gondola Station
on Aonach Mor








Aonach Mor Ski Runs

Eilean Donan Castle

Loch Shiel near Glenfinnan








Entrance to Gowan Brae House

Heavy Snow outside
Gowan Brae B&B

Steall Falls - Waterfall
at Glen Nevis








Click on all photos to enlarge